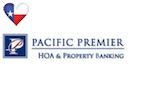 Pacific Premier Bank is a state-chartered commercial bank headquartered in Irvine, CA. We serve businesses from ten locations throughout Southern California including ten depository branches in Irvine, Huntington Beach, Los Alamitos, Newport Beach, San Bernardino, Seal Beach, Palm Desert Country Club, Palm Desert, El Paseo, Palm Springs- Tahquitz, and Palm Springs-Smoke Tree.
Through our branches and our web site we offer a full complement of deposit and loan products and services for commercial businesses, non-profit organizations, and consumers.
We offer our customers an alternative to the impersonal service experienced at the large regional and national banks.