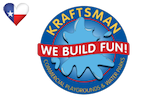 Kids love what we do for them. You will too.

Want to develop a truly exceptional playground or aquatic recreational area? Put our expertise to work for you. Since 1981 Kraftsman Commercial Playgrounds & Water Parks has been providing the highest quality and safest recreational equipment in Texas. We provide the finest aquatic SplashPark equipment, playgrounds, shelters, skate parks, park amenities, fall surfacing, fitness equipment and much more. Our goal at Kraftsman is to provide customer service and satisfaction. From initial designs, to complete installation & everything in between, Kraftsman has the experience to do the job right.
Architects & designers
Residential land developers
Schools & churches
Cities & municipalities
Apartment complex owners
YMCAs & campgrounds
Thousands of satisfied customers just like you are happy that they chose Kraftsman. And countless more kids are completely ecstatic.
So explore our site at www.kppe.com. Feel confident that you've found the right supplier. When you're ready to make the most of your project, we've got your solution.