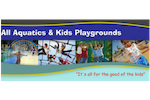 ALL Aquatics & Kids Play specializes in affordable commercial splash pads, playgrounds, canopies, shade structures, and park amenities. We offer a complete design support team, as well as service and installation of all your park and water play needs.
All Aquatics & Kids Play is the industry leader when it comes to designing and building your splash pad and playground areas. In addition we are the leader in the industry when it comes to Reconditioning, Restoration, and Seasonal Maintenance of your splash pads and playgrounds. All product lines meet commercial ASTM, CPSC and IPEMA Safety Standards.
Our experience in working with City, County, Municipal Districts, Developers, Churches, Day Cares, Schools, HOA's, RV Parks, and Independent Recreation Areas allows us the confidence that ALL Aquatics & Kids Play will make your project a reality and within your budget and themed plan.
Bringing your imagination and plans into a reality of play, adventure, and splash excitement for all ages is our expertise. Whether your needs are new or restoring existing All Aquatics & Kids Play can provide. We look forward to working with you and your team in the near future.