Allied Universal

161 Washington St.,
Ste 600
Conshohocken, PA 19428-2083
Jason Krusie
Phone: (404) 898-1600
Fax: (404) 541-9899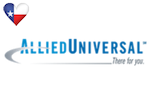 We Are There for You. You need to focus on your core business to achieve important goals. To seize opportunities. To exceed your stakeholders expectations.
Allied Universal provides unparalleled service, systems, and solutions to serve, secure, and care for the people and businesses in our communities. Our relationships with our employees and clients are at the heart of everything we do, each and every day.
When we partner with you, you can feel confident that you have a partner who truly understands your needs and aspirations. Through our leading services, systems, and solutions Allied Universal is there for you.